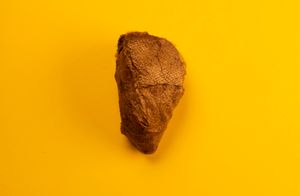 BIO: the impliers
Dan Hartman and Charles Ingram of beautifully strange indie-rock band the impliers have a creativity pact that dates back to their high school days. The pair came up as bratty teenage punks in the storied Greenville, North Carolina scene. There, the twosome's can-give-a-f#@$ indie-rock band was welcomed into the rarefied underground scene populated by members of now-iconic bands such as Future Islands, Valiant Thorr, and Municipal Waste. At 15, the guys vowed to not be like the adults they saw whose love of music got buried over by life. 
Many years later, Dan and Charles are honoring their boyhood promise as puppeteers of the impliers. Their multi-media artistic explosion features sprawling psychedelic, electro indie-pop, comedic infomercials, cleverly hilarious visuals, and playfully tripped-out music videos. The Denver band's debut LP, cocoon, out August 19th, is a fearlessly honest, introspective concept album with topics ranging from mental illness and relationships to mortality. cocoon will be the first record in a multiple-album concept series. 
"It's some Disney movie stuff—making good on our teenage dreams," Dan says with a good-natured laugh. He continues: "One day, I just sent Charles a text, saying 'we have a band now, it's called the impliers, this is what we're doing.'"
the impliers bring an art/pop/noir surrealism to contemporary music. Songs veer off into weird journeys, and their productions are thoughtfully layered, demanding multiple listens to take in the full majesty of their carefully composed soundscapes. These thickets are dense with oddly-tuned guitars, textured synths, electronic beats, rubbery bass, complex Beach Boys-esque harmonies, lushly textured soundscapes, atonal riffs, twitchy funk, and sublime melodicism. This is genre-defying music, yet, if you listen closely, you can glimpse strains of early Radiohead, NIN, The Beach Boys, Tame Impala, David Bowie, Sonic Youth, Depeche Mode, Blonde Redhead, Pixies, and Beck. 
The multi-instrumentalist masterminds handle A-Z of the impliers output. Writing, producing, playing all the instruments; self-funding, managing, publishing and releasing their musical product;  conceptualizing, directing, and producing all the band's exuberant videos; creating its playfully retro-tinged visual imagery; and even developing its sharp marketing docket. 
While initially cut from the same cloth, Dan and Charles have crafted their own individual sounds. Dan brings melodic, impressionistic, and polished musical arrangements, driving rhythms, thoughtful lyrics, and catchy choruses. Charles contributes brooding, ethereal, ambient, raw instrumental elements and haunting, mysterious words. Together, each member brings a complementary skill set and perspective. 
Dan and Charles began making music together at age 15 united by a bold desire to explore the outer limits of alternately tuned guitars. The pair had an immediate intuitive connection, and hunkered down in a storage shed to home in on its avant-garde aesthetic. They emerged as Phantom Zell, a weird indie-punk band that specialized in curious guitar tunings and abstract and abrasive musicality. "We played punk shows, but we were the only band in the scene that broke the punk rules by not playing that typically fast and aggressive sound," says Charles. By age 17, Dan and Charles's songs were earning placements on compilations alongside diversely popular acts such as Of Montreal, Fugazi, Jawbreaker, Dillinger Escape Plan, and Converge. 
Eventually, the band drifted apart, the scene changed, and Dan and Charles began to also go their separate ways. Though not actively creating together, the guys set out on parallel artistic paths finding inspiration in the synergy with films and soundtracks. And there were other uncanny connections. Over the years, they were bonded by unique correlating circumstances, including near death experiences such as near fatal car accidents, dying in a house fire, being struck by lightning, and escaping armed robberies. 
"I had a 10-year relationship end, and, out of the blue, after a few years of not being in touch, Charles called me and said his marriage had ended at the same time," Dan recalls. "At the time, I had completely stopped playing and creating music."
The eerily similar life circumstances, the guys' parallel creative paths, and the telepathic musicality they once shared made a powerful case to continue the musical dialogue. Inevitably, Dan envisioned a cohesive project and sent Charles that fateful text to start the impliers. 
cocoon is an eclectic collection that hangs together with focused artistic intent. It defies genres, yet exhibits a signature sound as it winds through lush indie-folk, synth-pop, ethereal electro-pop, dream-pop, grimy distorted indie rock, cinematic almost-Western soundscapes, industrial pop, piano balladry, and dark wave. Thematically, the pair explore heavy topics with abstract poetics. "cocoon is a very vulnerable album that explores some of the complexities of the human condition and the impact it has on all of us in a very honest way. The cocoon that is our human self for our soul is an interesting metaphor for us," Dan says. 
The track "bad bad man" brims with synth pop goodness tempered with cool atmospherics and trippy vocals that are warm and inviting. "Ego Death" is a glorious tangle of rubbery bass, vocals buried in effects, and guitars that evoke tumbleweeds ominously blowing on desert sand. The song "lightning" is a vulnerable, introspective song tucked into an infectious dose of catchy synth-pop. The song's prismatic musicality seems to epitomize Dan and Charles mercurial artistry. "It's a prime example of our 25-year musical collaboration," Charles affirms. Like most of cocoon's tracks, the lyrics are emotionally evocative, and exhibit storyteller arcs, but specifics are hard to pin down. "It's all there from our perspective, no need to try to explain the words with more words," Dan says. 

cocoon is parts 3 through 5 of a multiple album project with a cohesive story and theme that will be unveiled over several years. In addition, Dan and Charles are finishing up several solo albums they support each other on. Reflecting on cocoon, Dan says: "Musically and lyrically, the album evolved from a deep place for us. It's a sort of love letter to music and mental illness awareness, and we hope some people can really connect with it."